I bet that you use Excel or Google spreadsheets to track your projects, payments and also purchase orders for your contractors. I agree that it's pretty simple and the best way to start. It gives you the basic insight of how you are doing. Apart from that, you should be able to see which payments are due and how much did you spend on outsourcing. This will work well until you team starts growing or you need detailed information about the projects. What if you have too much work and need to drop some clients? You should keep the most profitable ones. I'm going to tell you how to do it in Podio and why do I prefer it. When you are moving from spreadsheets, you don't want anything complicated and especially not spending more time. Let's do something really simple, that gives you a quick overview of your situation.

Clients
Before you start adding projects to the system, you need to have the list of your clients. You can customize the data, but I'm fine with the:
name
email
contact person
hourly rate
note (for invoice details)
Many of the apps use much more fields, but you usually don't need them. So why don't keep the things simple?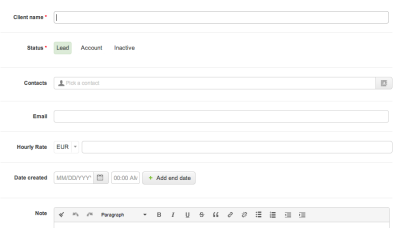 Projects
Project is what is the most important, because that's what groups your tasks, income and costs. Depends on how you work, you can have one project per client, or the clients may come back to you to do more work for them. Still, we can keep things simple and we don't need much more than:
project name
client we do the project for
status
project manager (if you have more)
production budget
delivery date
Production budget ins't what the client pays you. It's how much do you plan to spend on outsourcing. A good practice is having yourself as an resource as well and include your time spent on the project to the production budget. This will let you better how profitable the project is.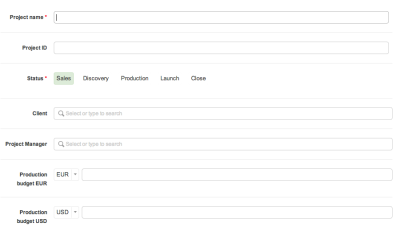 Sales
You were thinking about why doesn't the project include the sale price for the client. Well, I've got two reasons. Many projects have out of scope updates, which the client pays for and that don't need to be treated as separately. When it happens, you can create a new sale under the existing project. If you have a project manager helping you with the project, the production budget is important for them. They don't really need to know how much is the client paying you. What you need to track about the sales is:
project the sale is for
amount
status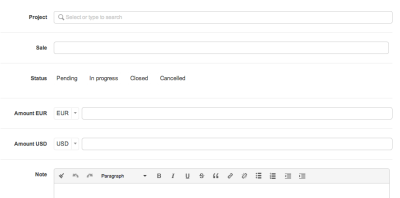 Invoices
One of the thing that freelancers and sales managers like the most is, when they can send the client an invoice. And one of the only better things is, when the invoice is paid. Invoices also need to be tracked, because you need to know which of them are paid. And more important, which aren't. It makes sense to have it separate from the sales, because the payment may be split into more milestones. If nothing else, downpayment and final payment it is. You can still use spreadsheet to do the invoices, but tracking the basic info is really great. What you would most likely need is:
invoice ID
link to sale the invoice is for
amount
due date
you should also add a short description for easier identification
Team
A good practice is to delegate tasks and outsource them to the people that can do it better. It costs you money but also gives you more time to focus on what you are good at and get more work. To be able to track the costs, create the list of the people you work with. What I do is that I also select their skills to be able to filter them easily when I need to find the developers for example. Then you need just their:
name
email address
hourly rate (it's good to have, although you may prefer fixed costs per project)
Don't forget to sign the NDA with them and add it to the entry.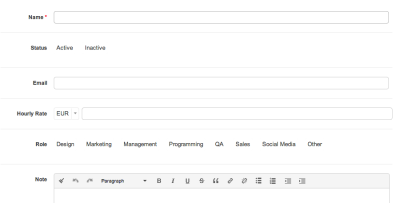 Purchase orders
Finally, you need to track the costs of your team. Purchase orders are simple to create and the important is to link the project with the team member, add costs and some short description to let you recognize them easily.
That's it. Podio gives you a great option to customize your process, so you can set it up to match your needs. You can add or remove fields, automatic calculations and reports. Since it may be a bit complicated to set everything up, I strongly recommend looking at existing apps and app packages. The process that I describes is for the app package that I created for my company and I'll add a link to it as soon as Podio approves it in the app market. Feel free to use it and update as needed. To be able to get the quick overview of the current status, you will need to know how to link the apps, create reports and automatic calculations. I've already started writing a post about that. So stay tuned and subscribe for the newsletter if you don't want to miss it. (Photo by http://www.flickr.com/photos/doug88888/4634443529/)